A number of you have expressed interest in a tool for measuring distances in 2D.
I thought that the scope of such a tool would be too limited (pure 2D) and above all that it would be deceptive to use as you can't know if it is reliable or not at the time you use it (and you can't measure the error bias)
Under your repeated assaults
I realized the obvious and I added a marker for length to the existing line tool.
In term of usage, any existing line can act as a reference, you seal its actual length through the contextual menu.
Each and every line present in the video will be impacted by the sealing. (The display of the length itself is still configurable on a per-line basis)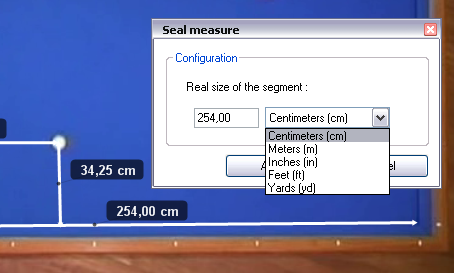 Some guidelines to reduce errors :
- Lines measured must be on the same plane.
- This plane must be strictly perpendicular to camera axis.
- The line segments must be close to the center (to minimize lens distorsion)
- Line segments must be close to a reference segment.
- If segments are on different frames, the video must be fixed (no pan/tilt)
You can test this feature in the experimental version available on the forum.