Topic: Experimental version - 0.8.20
Experimental version feedback needed !


Beware of regressions and report anything suspicious. Do not assume the issue is known.
Installer: link removed. Check 0.8.21
Plane calibration.
The most important addition in this version is the ability to use the perspective grid as a coordinate system.
(To get to the perspective grid you need to do a long click on the regular grid button).
Once the grid corners are in place, right click the grid and choose "Calibrate". This will get you to a dialog where you can specify the actual physical dimensions of the grid.
The grid must map a rectangle on a physical plane (ground, wall, etc.)
Once this calibration is in place, every measure will be in the context of this plane. (distances, angles, speeds.)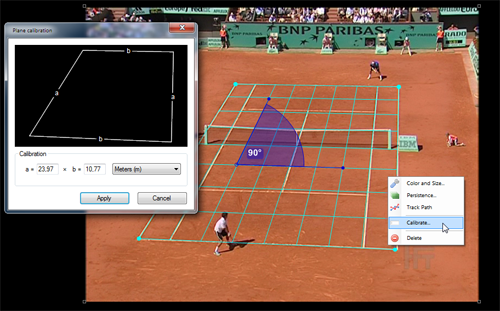 As a bonus, the grid is now also trackable, and the ability to change the number of divisions is back in the configuration dialog.
Plus
- The Russian locale has been integrated, thanks to Andrey Pomerantsev.
- The other minor tweaks and fixes can be found in the raw changelog.